VDL Mode 4/STDMA implementation in Russia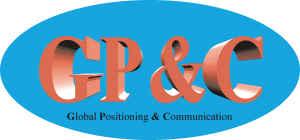 ---
Russia:
Implementing a Surveillance System Based on ADS-B
and VDL Mode 4
Kim O'Neil
Advanced Aviation Technology Ltd.
Abstract
Conventional Communication, Navigation and surveillance technologies have severe shortcomings in countries as geographically vast as Russia. The physical environment, with its extremes of climate and enormous distances are practical issues that add greatly to the cost of developing and maintaining an ATM infrastructure. Accordingly, after much investigation, Russia has made a strategic decision to develop ADS-B implemented by VDL Mode 4 as the primary means of surveillance in Russian airspace. It has also made strong public commitments in ICAO supporting the final validation and publication of ICAO SARPs for VDL mode 4 to ensure full interoperability for surveillance applications.
1. Introduction
Russia is a vast country – nearly twice the size of the United States. Russian airspace covers 25 million square kilometers with 17 million square kilometers of continental and 8 million square kilometers of oceanic airspace. International air routes across its territories stretch across many thousands of miles. Its climate ranges from the humid South to the frigid Siberian winters in the North. Providing Air Traffic Management (ATM) services across such a huge and often physically remote area is a truly daunting task. Yet, the potential economic benefits of improving the Air Traffic Management System to airlines operating across Russian airspace and to Russia itself are also very big indeed. However, implementing these changes will not be easy in the unstable economic conditions that exist in Russia today.
Nevertheless, Russia is determined to improve its ATM infrastructure and has undertaken a number of specific measures to ensure these improvements happen in the very near future. Specifically, Russia has undertaken a number of key CNS/ATM projects in line with ICAO's CNS/ATM Concept. Furthermore, Russia has made a commitment to implement a full surveillance system based on ICAO's VHF Datalink mode 4 (VDL mode 4) by 1st October 2005.
These projects and their associated planned improvements are fully supported by the Russian President and by the relevant federal and local authorities such as Federal Service of Air Transport (FSAT), the regional administrations and associated authorities.
2. ADS-B in Russia
2.1 Related Implementations and Trials
Russia has carried out a number of CNS/ATM trials to investigate ways to improve its airspace and infrastructure with particular efforts to develop international routes supported by Advanced Air Traffic Management systems. This work included the development of Cross Polar, trans-Siberian and Far East routes. Naturally, the aim was to improve not only existing route structures and services, but to establish new direct routes for the benefit of the many airlines that fly across Russian airspace.
These routes could open up many new opportunities and could lead to significant cost savings for airlines. For example, cross polar routes can be established to support ATS routes connecting North America, Europe, Middle East and Southeast Asia. Clearly, there are many more potentially economical routes between Europe, North America and Asia traversing Russian airspace.
2.2 Implementing CNS/ATM in Russia
Russia, in common with the world aviation community, is facing the challenge of introducing CNS/ATM technology for operational applications.
Russia has to deal with many different types of aircraft including Russian-made aircraft, which are not fitted with FANS-1 equipment and various types of Western-made FANS-equipped and non-FANS equipped aircraft. The flight crews of all these aircraft wish to fly the most economically viable routings.
Russia began addressing these issues back in August 1995 during operational trials of the CNS/ATM workstation installed at Magadan ACC. This experience made it possible to develop operational procedures applicable to Magadan's very mixed air traffic environment as well as the detailed implementation procedures for CNS/ATM systems in general. This experience in implementing such systems increased Russia's determination that ICAO develop at the earliest opportunity global CNS/ATM standards for the world aviation community.
For Russia, CNS/ATM will provide air-crews with new surveillance and communication services giving a wide range of on-board capabilities and a common interface for an ATC controller to interact with the diversified on-board equipment of aircraft in the same airspace.
2.3 CNS/ATM Operational Trials in Magadan, RFE
During the summer of 1995 equipment had been installed permitting operational trials, with ATC controllers at Magadan ACC communicating with FANS-1 equipped aircraft. A United Airlines (UAL) Boeing 747-400 flying from San Francisco to Sydney August 24, 1995 was the first aircraft to ever establish contact with Magadan's CNS/ATM system. ADS reports were received each 5 minutes. The full text of CPDLC messages were transferred - but with significant delays. A specific messaging scenario was used to ensure coordination between ATC in Magadan and the UAL pilot.
Shortly after, on October 19 1995, a UAL 1854 flight crew was the first to use FANS capabilities in Magadan airspace. Contact was established after the entry into the Russian airspace in the area of Khabarovsk. During the entire flight a 15-minute update rate was used for ADS reporting. The Russian controller at Magadan ACC controlled this flight as well. After the entry into the Magadan ACC sector, all voice instructions were repeated via CPDLC (as this was an operational trial). The aircraft was tracked up to the hand-over of control at the Alaska FIR boundary.
The FANS-1 equipage provided CNS/ATM functions such as automatic dependent surveillance (ADS) and controller-to-pilot data link communication (CPDLC).
The CNS/ATM workstation carried out the data interchange via data link, which displays two types of data to the controller: ADS position reports were displayed along with ATS route structure, geographic boundaries etc, whilst CPDLC messages were displayed on a separate smaller interface display. Such installations illustrated the potential techniques that were available to enable the expansion of ATM functionality in Russia and, of course, to other remote areas of the world. The CNS/ATM workstation also provided the controller with both air-to-ground voice and data link communication to interact with air-crews.
Necessarily, CNS/ATM ground equipment must provide capabilities to interact with many categories of aircraft. For example, Magadan ACC serves a very wide range of aircraft with different levels of automation and on-board equipage. These include Russian commuter aircraft and other aircraft fitted with VHF or/and HF radio; aircraft equipped with VHF data link and/or mobile SATCOM and FANS-1 equipped aircraft.
The main purpose of the CNS/ATM system implemented at Magadan, was to integrate returns from diversely equipped aircraft into a single situation display. The Magadan system was used from November 15th 1995 to December 15th 1996 to demonstrate the potential of new tracks. The trials were considered a success and resulted in the implementation of 6 brand new CNS/ATM tracks.
2.4 Potential Benefits of New Polar Routes
Following the earlier trials, a new project was established to investigate the potential to develop new Polar Routes by implementing CNS/ATM services and procedures. These projects consider establishing Cross-Polar routes through Krasnoyarsk and Yakutsk regions, as well as open new routings from Southeast Asia and Middle East to Canada and US through European, Siberian and Far East parts of Russia. The Russian/American Coordinating Group for Air Traffic Control (RACGAT) defined several such routes.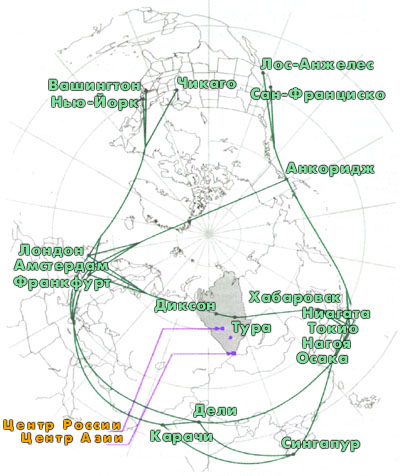 Figure 1: Existing Routes
The first demonstration flight, across the newly established Polar 2 route from Krasnoyarsk to Toronto was operated on July 3, 1998 by Transaero Airline (TSO).
Cathay Pacific Airways (CPA) operated another demonstration flight on July 5, 1998 across Polar 2 from New York to Hong Kong.
There are also plans to enhance a number of RFE routes for flights across the areas of Kamchatka peninsula, Sakhalin island and Primoriye region, as well as routes in the European part of Russia.
To demonstrate the global significance of these aviation projects, it is interesting to compare the existing routes (Fig 1) and the projected route system (Fig 2).
Simple comparisons easily illustrate the significant savings (in time, fuel etc.) for flights across the projected route system. This route system would be impossible without advanced CNS/ATM capabilities.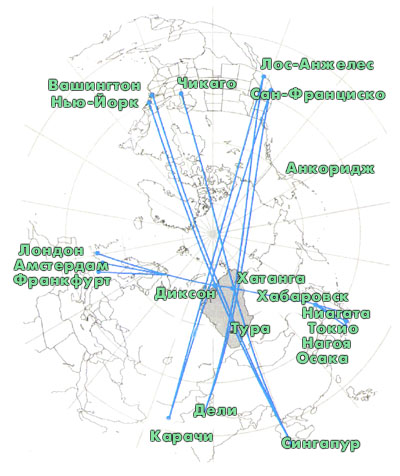 Figure 2: New Projected Direct Routes
2.5 CNS/ATM Facilities and Equipment
These projects required modern ATC capabilities, which are able to use both conventional and satellite technologies to provide communications, navigation and surveillance. Communications services in the Russian trials are based on a combination of satellite fixed and mobile communications, as well as VHF and HF data links. As a result of these trials, it was determined that Navigation will primarily use the RNP concept and surveillance could be provided by means of Automatic Dependent Surveillance (both ADS and ADS-B). The CNS functionality could be supported by a number of automated controller workstations. The projects also highlighted the training of staff that would be required to operate and maintain CNS/ATM systems.
It is also clear that future projects must be implemented in parallel with state-of the-art solutions aimed at increasing capacity of international routes and the introduction of the CNS/ATM based air traffic control.
3. Moving from Trials to the Future System
The operational trials in Magadan illustrated the wide range of options set out in the international agreement on future air traffic management, which was proposed by ICAO as the Communication/Navigation/Surveillance and Air Traffic Management (CNS/ATM) concept. Consequently, as a result of the Magadan trial results, the Federal Aviation Authority of Russia agreed to continue system trials and subsequently to integrate it into the Russian ATC infrastructure.
4. The Decision to Implement VDL Mode 4 in Russia
In January 1998, the Federal Service of Air Transport (FSAT) of Russia, the State Corporation of ATM of Russia, GosNII "Aeronavigatsia" and GosNII Aviation Systems made the joint decision "On the organization of experimental works in the promotion of VDL Mode 4 to investigate ADS-Broadcast and its potential applications for ATC". These organizations considered that VDL Mode 4 provided the most expedient way for the transition to the future CNS/ATM System in Russia.
Following this, in October 1999 FSAT signed an order "On the creation and implementation of the Automatic Dependent Surveillance-Broadcast (ADS-B) System into civil aviation in Russia". This Order sets the target date of 1st October 2005 as the start of the operational application of Automatic Dependent Surveillance-Broadcast for Russian civil aviation as a means for Air Traffic Control (ATC).
4.1 Implementation Milestones
The development programme is divided into three main stages: Stage 1 (4th quarter 1999 – 4th quarter 2000) will involve the selection of service providers and the selection and survey of installation sites. The technical documentation to support aircraft installation will be developed, along with appropriate documentation for acceptance and testing of both ground and airborne equipment.
Stage 2 (4th quarter 2000 – 2nd quarter 2001) will consist of further trials and evaluations of ADS-B for surveillance applications. Initial work on the certification of equipment as well as evaluation of associated ATC technology will be carried out. Written procedures will be developed to support the exploitation of ADS-B as a supplementary means of Air Traffic Control.
The third stage (from 3rd quarter 2001) will consist of the implementation of the ADS-B infrastructure and its exploitation at aviation facilities (both airport and ACC) and various Regional State enterprises to facilitate airspace use and Air Traffic Control in Russia.
It is intended that the 1st October 2005 be the start date for widespread formal ATC operations based on ADS-B in Russian Airspace.
4.2 Appointment of State Enterprises and other Agencies
To support and organize these activities, a number of agencies have been given specific responsibilities. These include coordinated responsibilities for activities such as: finance, project management, technical support, certification, installation, integration, documentation, test and evaluation, procedures, training, spectrum issues, site survey, acceptance testing, Regulation, Standards and exploitation.
5. Tyumen project
Within the outline proposals set out above (particularly stages 1 and 2), the next two years will be dedicated to the investigation of the operation of ADS-B for surveillance and air traffic control in both the en-route and in the terminal area. This work will be carried out by the regional state enterprise for the use of airspace and air traffic control "Tyumenaerocontrol". The work packages associated with this project aims to validate the advantages of ADS-B applications in ATM for airlines that have equipped their aircraft with VDL mode 4 transponders.
The project plans to carry out the validation of the ATC technology and working procedures for ATC and aircrews using ADS-B and to work through the procedures for equipment certification. An important part of the project concerns the validation of ADS-B applications supporting flights in regions currently without radar surveillance.
The output of this project will help to determine the future development of ADS-B implementation in Russia.
5.1 Creation of a Ground Network for ADS-B Implementation.
Local ground stations deployed at the first stage will then be integrated into a wider communication network. Ground ADS-B stations already installed in Moscow, St.-Petersburg and Riga will later lead to the merging of both the Russian and North European ADS-B Networks for the integration and harmonization into a future air navigation system. This will involve close future cooperation in the organization of air traffic with European countries supporting VDL mode 4 (e.g. Sweden, Germany, Italy, Denmark etc.)
To facilitate the further integration and extension of this infrastructure, Russia has also announced its intention to fully participate in the Southern Ring Project.
5.2 The Southern Ring Project
Southern Ring project will investigate the benefits of CNS/ATM technologies including GNSS and ADS-B tools, in particular, to the 'southern ring' countries adjacent to Russia: Moldova, Armenia, Azerbaijan, Georgia, Kazakhstan, Turkmenistan, Uzbekistan, Tajikistan, Kyrgyzstan, and Mongolia. The project will consist of various ADS-B demonstration activities in the southern ring countries.
The Federal Service of Air Transport of Russia conducted negotiations on possible areas for co-operation with the Southern Ring project. As a result, Russia is ready to organize flights of aircraft equipped with ADS-B based on VDL Mode 4, including the delivery of ground equipment, its prompt deployment in ATC centers of selected southern ring countries and flight demonstrations of benefits realized through the application of ADS-B and GNSS. Preliminary talks concerning the possible use of combined GPS and GLONASS signals for ADS-B based on VDL Mode 4, in particular, have also taken place.
6. Other projects
A number of other related projects are investigating different aspects of ADS-B applications in Russia. These include (but are not limited to) the following projects:
6.1 Advanced Surface Movement Guidance and Control System (A-SMGCS)
In 1999 Domodedovo (Moscow) airport installed a surface movement guidance and control system to coordinate vehicles involved in the servicing of aircraft. This automated system controls the location and status of vehicles and transmits commands to drivers. Data acquired from the vehicles is processed in the system and transferred to the operator. At the same time, an airport database sends information of the expected time of arrival and departure of aircraft, assigned parking areas etc. and analyzes this data to increase the efficiency of transportation services.
The year 2000 will see the integration of this system into a fully automated surface movement guidance and control system that is currently being developed. It is expected that this system will be deployed at Domodedovo and Kurumoch (Samara) airports in parallel with the installation of ADS-B on the aircraft of participating airlines.
6.2 Helicopter Operations in Moscow Airspace
Funding is being made available to allow the ATC system in Moscow airspace to monitor and control low altitude flights with ADS-B. Navigation and communication equipment (VDL Mode 4) is planned for installation on all aircraft performing special flights in Moscow airspace (ambulance, helicopters of the Ministry of Extreme Situations, State Road Safety Inspection and so on). In future ADS-B is also expected to be used to control commercial flights in Moscow airspace.
6.3 Offshore Oil and Gas Exploration
In an interesting development, JV Gasprom is considering equipping its aircraft with VDL Mode 4 transponders with integrated GPS/GLONASS receivers for the realization of its communication, navigation and surveillance functions in the development of oil-and-gas deposits in the Arctic shelves.
7. Summary
Russia has made a major move forward to implement CNS/ATM systems in line with ICAO's CNS/ATM concept to vastly improve its ATM infrastructure. Russia believes that ADS-B implemented by VDL mode 4 offers enormous potential to improve services in airspace that currently has little conventional surveillance technology. This decision to develop surveillance based on ADS-B will lead to many benefits to airlines operating within and across Russia's airspace. Some of these improvements will include many new direct routes with a consequential increase in both the safety, capacity and operating efficiency of Russia's airspace. The potential savings for long haul airlines operating between North America, Europe and Asia will be substantial. These benefits will include reduced flight times, major fuel savings, improved scheduling and slot allocation and increased cargo and passenger loads.
---
Last update: april 01, 2000.
Seach words: GPC Systems International AB, GNSS-Transponder, GNSS Transponder, GP&C Transponder, GPS-Transponder, STDMA data link, SOTDMA, ICAO VDL Mode 2, ICAO VDL Mode 3, ICAO VDL Mode 4, ADS-B broadcast, Surveillance, Mode S Squitter, GPS-Squitter, AMASS, ASDE, TCAS, CDTI, DGPS, DGNSS, GBAS, LAAS, ICAO/AMCP, RTCA Task Force 3, Free Flight Steering Committee, Flight 2000, CNS/ATM, NEAN, NEAP, NAAN, FARAWAY, SUPRA, MAGNET-B, FREER, PETALII, 4S Transponder, AIS transponder, Håkan Lans, Hakan Lans, Håkan Lantz, Russia, http://www.gpc.se, http://www.gpc.se