Press clip:
The following article has been converted to HTML format.
---

MARCH 23, 1992
AIR TRANSPORT
O'Hare to Evaluate Use of GPS
For Tracking Ground Traffic
WASHINGTON
Tests are scheduled to get under way in October at Chicago O'Hare International Airport to demonstrate ways in which global navigation satellite systems (GNSS) can be used at large international airports.
The tests will focus on using the Global Positioning System to improve ground safety during low visibility taxiing. The airport surveillance and ground-vehicle tracking will involve both aircraft and airport vehicles.
The tests, which are expected to run for a year, are being cosponsored by United Airlines, the City of Chicago and Aeronautical Radio, Inc. ARINC will direct the tests and provide the systems design integration.
DIFFERENTIAL GPS
The effort is planned to showcase GNSS technology for airline and airport operations, air traffic control applications and safety enhancement.
Manufacturers of situation displays and equipment for aircraft, vehicle and control centers will be welcome to participate, according to James Kendrick, ARINC coordinator.
Among the avionics and electronics equipment that will be tested are GPS receivers, communications systems, computers, displays, software, data bases and electronic maps.
The tests are to focus on differential GPS. Each ground vehicle or aircraft in the test would have a GPS receiver on board.
The normal 100-meter GPS accuracy would be improved to 1-3 meters by corrections transmitted from the differential GPS ground station.
The position of vehicles would be displayed on an electronic map at the control station and on-board each vehicle.
The position of each would be transmitted by data link. It is the data link transmission that may pose the greatest technical challenge.
An important premise of the tests is that there be no adverse affect on air traffic control, airport or normal airline operations. ARINC plans to use the aircraft communications and reporting system (ACARS), which is currently used by the airlines for operational traffic and is advancing toward ATC clearance delivery. The test will determine whether ACARS can function in this additional role without disrupting other uses.
A Swedish company, GP&C, which has developed a new data link that will also be used, has been testing a differential OPS system at Goteborg's airport for several years in cooperation with the Swedish Civil Aviation Authority (AW&ST Jan. 20, p. 40).
Joseph Dorfler, the FAA's GPS program manager, flew in an aircraft with the system installed at Goteborg. It was impressive to look at, he said, and the FAA is interested in studying test data it collects on system performance.
According to the data link's inventor, Hakan Lans, he has developed a totally new technology. A single 25-KHz. link could carry positions from 2,500 aircraft and vehicles.
The GP&C system design assigns each station a different time to respond, syn-
The position of vehicles would be displayed on an electronic map at the control station and on-board each vehicle
chronized with the atomic clocks in the satellites. However, before transmitting its position, each station listens for other broadcasts, and selects an unused time if there would have been a conflict with the designed report time. Lans calls the system an intelligent data link.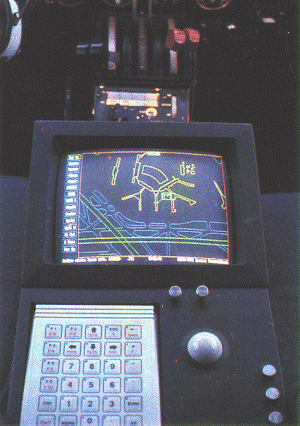 Swedish system that uses differential GPS, a data link and global map of airports will he tested for runway incursion prevention and ground control at Chicago O'Hare airport.
But Lans thinks the ground test represents a minor part of his data link's capability. He foresees airborne uses for the system as well.
Each transmission broadcasts position in latitude and longitude accurate to within 0.001 mi., identification, heading, altitude and time. Since a station receives all positions within range, it would have an accurate picture of where the other aircraft and vehicles are.
---
Press clip as MS WORD dokument
---